Reflexology is a complementary non-invasive therapy in the form of a specialised massage technique applied to areas of the feet and/or hands.
How does Reflexology work?
Reflexology is thought to effect change in other areas of the body because of the belief that all the body's organs are represented in miniature on the feet/hands. All these areas are stimulated via pressure points during the course of a treatment, which means that nothing is treated in isolation – it's a whole body experience.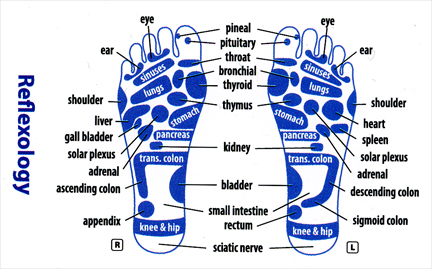 The basic principle of Reflexology is simply, applying pressure to the points that the map shows as appropriate and stimulate the central nervous system.
Benefits of Reflexology include:
Reduction of swelling in the feet
Experiencing a deep sense of relaxation
Improvement in irritable bowel syndrome
Better quality sleep
Reduction in pain
Improvement in menstrual cycle
Reduction in anxiety
Being able to handle stress more effectively
General improvement in the person's sense of wellbeing
Reflexology Massage During Pregnancy
After the first trimester, Reflexology is excellent during pregnancy to support the client as there is so much change going on in the body.