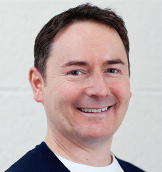 Tony Dawson has over 18 years' experience as a chiropractor, having graduated from the McTimoney College of Chiropractic in 1998. Tony is a full member of the McTimoney Chiropractic Association and the Royal College of Chiropractors. Most importantly he is registered with the General Chiropractic Council (registration number 01422). His route to chiropractic was unconventional, having previously enjoyed a successful 10-year career in IT and prior to that, having graduated with a BA (Hons) in French!
However, in common with many chiropractors, Tony had himself suffered for years with a recurring back problem, finally benefiting from McTimoney chiropractic treatment in 1990. He is passionate about the chiropractic profession and regularly attends Continual Professional Development courses to increase his knowledge and understanding of the causes and treatment of muskulo-skeletal problems. He also enjoys arranging and hosting courses at The Clinic.
Tony also offers a wide range of complementary approaches to musculoskeletal problems, including Deep Massage™, trigger point therapy, muscle energy technique, homeopathy and kinesio taping using Rocktape.
Have you been feeling dizzy?
If you've been suffering from short bursts of intense dizziness accompanied by nystagmus (rapid side to side eye movement) or certain movements of the head, it may be that you suffering from Benign Positional Paroxysmal Vertigo (BPPV). It's a benign inner ear condition, which can be unpleasant and frightening, but the Epley technique can really help you overcome its debilitating symptoms and resume your normal day to day activities. Tony is trained and insured to use the Epley manoeuvre as part of his on-going care for his patients.
Therapy & Practitioner
Session Times & Fees
Availability
Chiropractors
Tony Dawson
Initial Consultation
Duration: approx. 1.5 hours. – £62

Follow up sessions – 45 minutes – £45

Monday to Saturday
from 9.00 AM until 8.00 PM
I have been a patient of Tony Dawson for several years. Not only is he a highly skilled professional practitioner of chiropractic, but is also one of the most kind, caring and gentle people I've ever had the good fortune to meet.
His ability to pinpoint with extreme accuracy the root of pain or on-going medical condition is quite incredible. With Tony you are guaranteed added value – as sessions come with his expert knowledge & advice… and a smile!
The Borde Hill Clinic has the most amazing feeling of calm when you arrive and you feel nourished when you leave. This is all down to Tony and the fantastic people who work there. My monthly treatment however is always booked in and I never miss it because it gives me such a feeling of well being and balance, ready to face the world again. I have been seeing Tony for 10 years and he keeps my troublesome back in check and I am very grateful to him for that, coupled with a lovely experience whilst at the clinic I recommend him to everyone I meet.