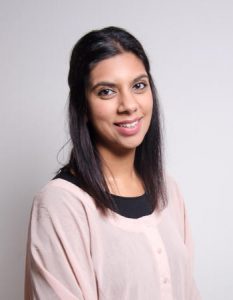 Areeba has been a practising chartered physiotherapist for the health service and private sector since 2009 and is registered with the HPC and CSP. She's also a fit back and bumps instructor.
She works with people from all walks of life with a range of problems from multi co-morbidities (musculoskeletal, neurological, respiratory) to the elderly in need of rehabilitation advice and pre and post-natal mothers.
She's also worked in A & E departments and the community to providing preventative guidance and enabling people to stay in their home with the appropriate support.
Providing strength and balance training to the elderly to promote independence and carrying out assessments of a home environment.
Treatment of musculoskeletal injuries/pain (back pain, whiplash injuries, shoulder pain, stiffness associated with dysfunction or arthritis).
She treats all her clients as individuals with their unique requirements and tailors her physiotherapy and advice to those specific needs. She also works towards improving your confidence and motivation in promoting self-management. Her ethos is to work together with you to make it work for you.
Physiotherapy Fees
&

Availabilities
Areeba Qureshi:
Initiial Consultation:
Duration: 1 hour
Fees: £60
Follow-up Consultation:
Duration: 30 minutes
Fees: £45
Availability:
Wednesday (Morning) & Sunday: Available on Request