Hard as it is to believe, in November The Clinic celebrates its 5th birthday! And what a fantastic journey it's been. We've gone from just 5 practitioners to 14 and my vision for a wellness centre that embraces all forms of health and beauty treatments has gradually taken shape. So we're having a celebration in the form of an open day and I'd be delighted if you could join us.
Bag yourself a prize
It's on Saturday the 12th November from 11am to 4pm and there are lots to tempt you with. We've got some great raffle prizes including a mid-week meal at Jeremy's at Borde Hill, £75's worth of Philip Kingsley products and lots of other goodies. The money raised is all going to St. Catherine's Hospice which is such a worthy cause.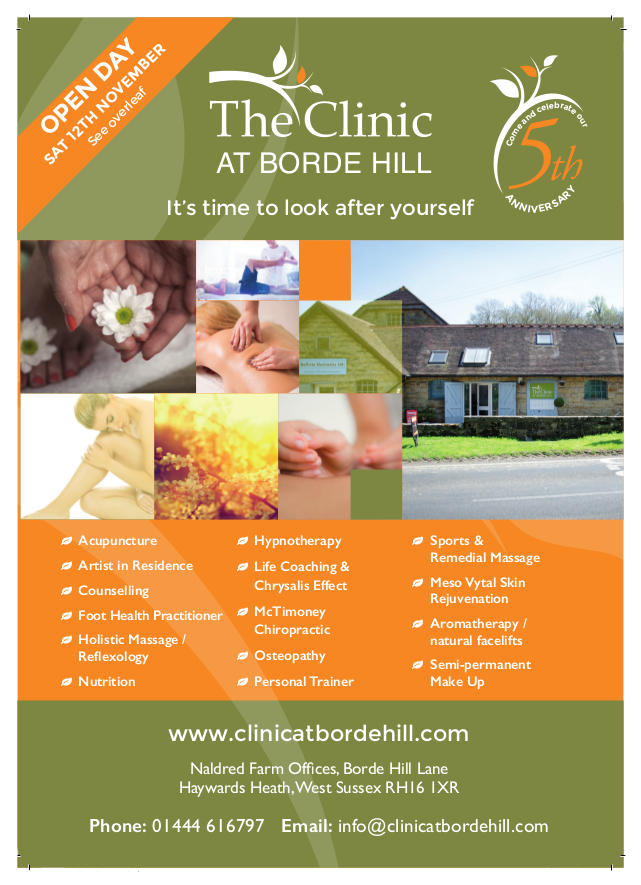 A chance to learn more
We'll also be running talks and demonstrations throughout the day which are a good way to learn a bit more about whether you think something will be right for you. We've got acupuncturist Lesley Reed talking about energy points, Emma Davis on make-up and Jean Luc Lafitte (well-known chiropractor and the latest member to join our team) just for starters.
There'll also be a chance to learn about skin treatment and hypnosis. There'll be lots of hands on stuff and if you're a health practitioner you get 3 CPD points for attending.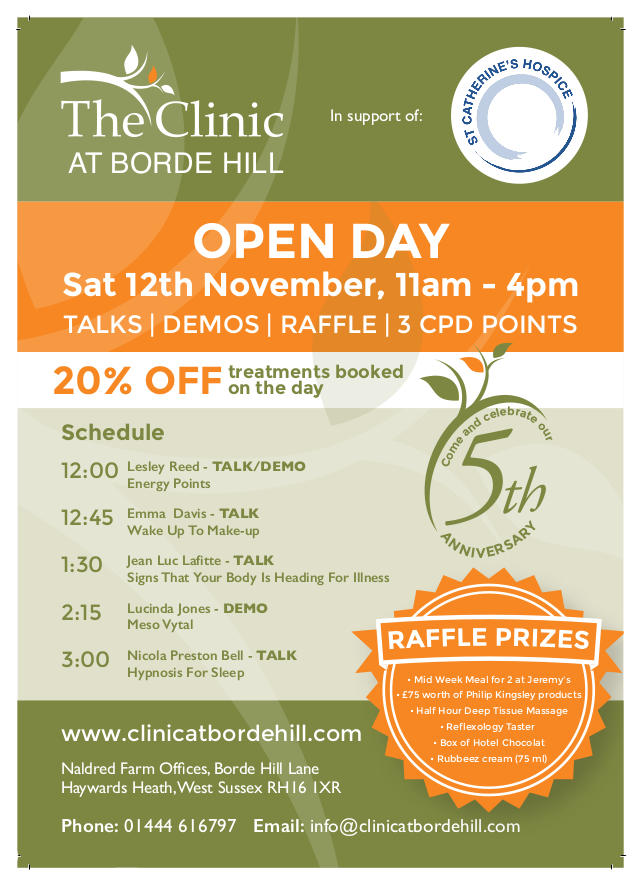 Some local art
You may not know that we have a local artist in residence here and her work will, of course, be on display too. And it wouldn't be a celebration without a few nibbles and drinks thrown in.
I hope you can make it because it's all set to be an interesting, sociable and thoroughly enjoyable day and our chance to say thank you to you. Just leave a comment below or give us a call if you're coming and I look forward to seeing you there.